Join us for our weekly women's circle on Monday nights from 7:30PM – 9PM.  You can RSVP by emailing me at MissKadidja@gmail.com or text me at (310) 924-0687.  This  weekly women's circle is a great place to connect with other women, make new friends and create a system of support.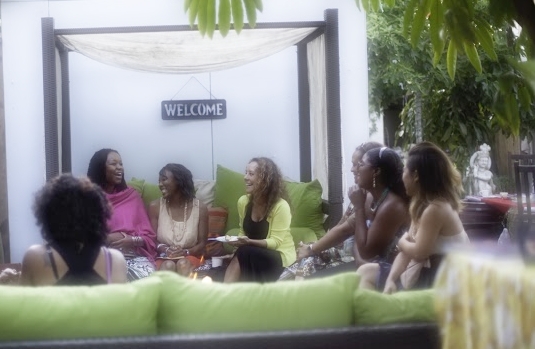 In this circle you will learn how to:
~Access your Feminine Power
~Clear Mental & Emotional blocks
~Connect to your desires and much, much more.

Bloom Into You Women's Circle
Sign up for our weekly women's group by filling out the form below and the location details will be sent to you. We look forward to having you!
What women are saying about Bloom Into You Women's Circle
"This coaching group is a wonderful opportunity for women to be supported and heard in a safe, caring environment. Kadidja holds such a sacred and loving space for the participants."~ Teri Breier
"Kadidja brings a beautiful, and loving vibe to her circles. Kadidja brings her sunny smile and gorgeous wisdom to these circles. All judgement is left outside and what is invited in is tapping into our own powerful insight, I always felt safe sitting in circle with the women who gathered. I used to attend them on Tuesday evenings. As a mother of two without a lot of community support I would find often myself walking into her circle empty and find myself filled with love energy. The women who attend Kadidja's circles are from all backgrounds and are supportive, inspiring, and open. We get to bring it all to Kadidha's circles and leave feeling more deeply connected to our desires." ~Stacy De La Rosa
" This is a fabulous group! There's a level of support that is rare in Los Angeles. Kadidja is easygoing, funny, and very caring. There are simple exercise that we do and equal time for sharing and learning. No matter what mood you are in when you arrive, it's so much better when you leave. I love this group! "
~Alana C.
Kadidja is such an amazing woman with such positive energy. Her women's groups are incredibly empowering, allow you to let loose, be free, and really get down to your true feelings and true self. She is such an open personality, there is no judging, no awkwardness at all. You leave inspired, feeling on top of the world. Things start to make sense, and life just start fitting together. It's a great time to release, and give to yourself. Thank you Kadidja! –Abra Klinger
" It is a joy to attend Bloom into You Women's Circle. Kadidja does an excellent job encouraging all the women who attend to bloom into their own individual power. She combines her excellent coaching skills with her natural ability to give women a comfortability in who they are and who they can become. Her great sense of humor is an asset which keeps us all laughing. It is such a joy to share our homogenous desires and goals, on a deep spiritual level. Women, you will not be sorry if you come to this group. " – Sheah Prince Eternal
" A most enriching experience. "- Toddre Monier
" What a great evening of divine spirits. I very much enjoy the group of women. Great energy!!!"- Francesca Aster
"Kadidja is awesome, she's smart, pretty, loving and passionate! Since working with her and group, I feel connected and supported in receiving what I really want, and every area of my life is improving! Thank you :)".- Sonja Tristan
"I love the space that Kadidja has created through Bloom into You Coaching. I started going to her Women's Circles on Tuesday evenings and it opened up a space in my heart for healing and compassion for myself. I loved fellowshipping with the other women, being supported by their warmth and openness, learning from their sharing and being guided gently, but expertly, by Kadidja's wisdom. It is a space where I am reminded to breathe and allowed to just be. Really grateful I crossed paths with her and ended up in this space". – Gabriella Chapman
"Kadidja's women's circles allow you to shine your brightest light in the company of supportive feminine energy. She effortlessly creates a space of connection, support and community that I have not experienced elsewhere. I continuously leave the circle feeling refreshed, renewed and with a deeper connection to my desires". -Kimberly Kirven
"I LOVE being a part of Kadidja's Bloom into you woman's circle! I feel so supported and safe to really Bloom! Learning how to Conjure my desires has changed my life! Dreams are coming true for me that I thought would never happen.. Come to the circle and learn how.. :-)"- Randi Hoffman
Comments
comments